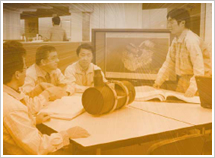 While Engine Design Groups creates a framework of an engine, Component Research and Development Groups builds the essential brain and nerves of an engine. Our responsibilities include performing advance researches and strengthening the basic technologies related to the fuel combustion system, electronic control system, aftertreatment system, and engine components in order to meet the latest emission reduction requirements and the demand for higher performance.
Advance Research Group, as represented by its name, studies the latest technologies for low emissions and high thermal efficiency combustion performance. As a pioneer of IPA, we are now exploring technological development in order to meet the Tier 4 emission standards that will be effective from 2011. In addition to our efforts to reduce exhaust emissions within the engine, we have a team of experts that studies the aftertreatment technologies to find the solution for the increasingly stringent emission standards.
The main focus of the Fuel System Development Group is to develop the fuel injection system, the heart of diesel engines, and bring the new technologies resulted from advance research to a higher level of completion to apply them to the commercial production of engines. Based on our extensive knowledge of the fuel injection and combustion system, our mission is to achieve both high operational performance that is one of key characteristics of Komatsu´ construction machinery and low-emission performance. IPA has successfully introduced engines equipped with electronically controlled high pressure common rail injection system into the market earlier than other competitors. We promote further development of advanced "Heavy Duty Common Rail System" for the engines that comply with the next tire of diesel exhaust emission standards.
The latest models of construction machinery are becoming an incredible collection of advanced electronic technologies. Needless to say, the control system keeps engine operating conditions at a optimum performance by sensing condition under which the engine is operated and local pressures/temperatures of various parts of the engine. Furthermore, not only controls engine operating condition, the ECM handles the interactive control among engine/hydraulic component/transmission, and a set of key control information is managed by the vehicle control system to keep maximum utility of vehicle in total. The control division in IPA is playing a key role in developing these advanced and highly functional electronic control systems of Komatsu vehicles.
Such brilliant component technology is supported by high durability technology that makes possible for pistons and crankshafts to endure the severe environmental and loading conditions of construction machinery. We are proud to be responsible for technological development to improve the reliability and durability for which Komatsu has long been acknowledged.