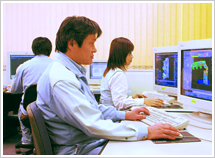 Engine Design Group engages in design and development of diesel engines for construction machinery.
Komatsu now develops, manufactures, and sells industrial diesel engines with displacement from 3.3 liters to 78 liters, most of which are for construction machinery. Engines installed on earth-moving construction machinery used in land cultivation, soil transportation, and ground leveling are subject to a large quantity of dirt and dust. Also, the machinery is operated under the most hostile conditions such as arctic regions where the temperature drops to -50 degrees Celsius, tropical regions where the temperature rises to +50 degrees Celsius, and super high-altitude land at 4000m or higher. In addition, quality and types of water, oil, and fuel used on an engine vary from user to user. By taking all of these factors into account, we design and develop new diesel engines by using IPA's decades of experience.
We continue to develop diesel engines with high performance, reliability, and durability based on repeated processes of design drawings, prototype building, test evaluation, and feeding back of the results before shifting toward commercial production of the engine. Meeting environmental requirements is also our focal point. The first exhaust emission standards for diesel engines for construction machinery became effective in 1996 in the US. Since then, the regulations became increasingly stringent every 5 years and Tier 3 became effective in 2006 in the US, Europe, and Japan.
We promptly started examination of issues related to the regulations and successfully introduced new Tier 3 diesel engines into the market through elaborate design, research, and development processes. The new technologies applied to the engine include an electronically controlled high pressure common rail fuel injection system, an engine mounted ECM (Electronic Control Module), a chassis mounted air to air aftercooler for all models, and then further improvement and expansion of current engine technologies already adopted by IPA. Also, a water cooled EGR (Exhaust Gas Recirculation) system was applied to medium and large sized diesel engines (11, 15, 23 liters), which became the first diesel engines for construction machinery in the world to be equipped with the system. The EGR system has been applied for diesel engines for trucks; however, we developed our original main components such as EGR valves and EGR coolers so that the system can tolerate the severe operational environment where construction machinery would be operated.
Meeting low emission, low fuel consumption, and low noise requirements, our engines, called "ecot 3", installed on construction machinery are operated all around the world especially in the US, Europe and Japan. Although we made such a great contribution in reducing a burden on the global environment and improving performance of Komatsu, we will not settle for the current situation. Our challenge for Tier 4 that will come into force in 2011 has already started.